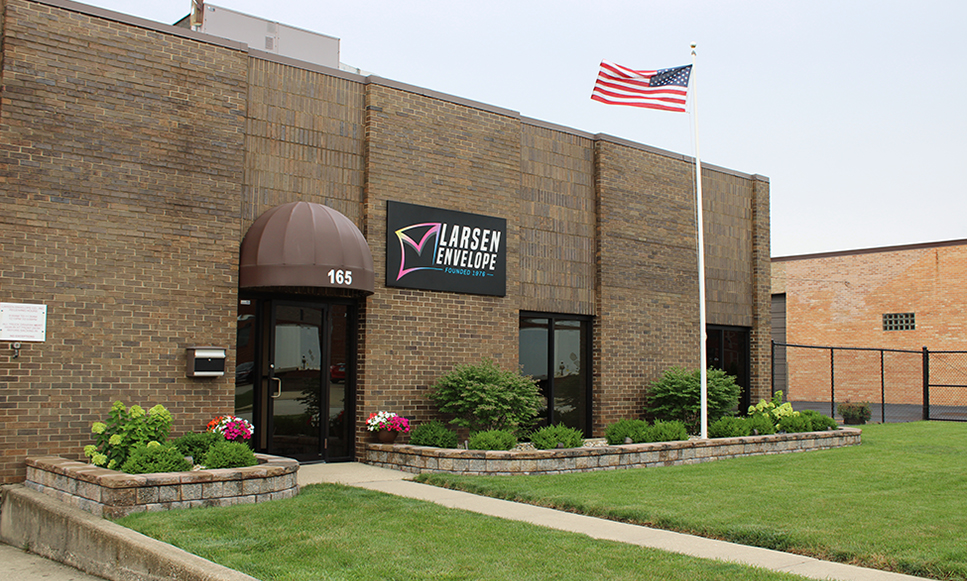 Welcome to Larsen Envelope Company, Inc
.
For us, it's good to be a leader.
For our clients, it's even better.
Larsen Envelope has been at the forefront of the envelope printing industry for more than 40 years, serving printers, brokers and in-plant printing shops throughout the country with unmatched quality, turnaround times and service.
We are committed to using the most advanced envelope printing equipment and technology available, and we've always been among the first envelope printers in Chicago to embrace and integrate new technology.
We are a high-speed, high-volume envelope printer for the trade. Having been in business for more than 40 years, we have earned and maintained an excellent reputation in our industry.
Larsen Envelope Company Inc. can take away your printing headaches by assuring you top-quality, competitively priced printed envelopes, done when you need them done.
Our customer list reads like a "Who's Who" of the printing industry. Larsen Envelope Company is proud to serve more than 875 customers throughout the United States. We pride ourselves on providing top-quality products and fast service.
Our fleet of nine Halm Jet offset presses work overtime to meet any demanding deadline. We don't just accommodate rush orders. They're our specialty.
Quality is about more than just equipment and speed, though. Unlike shops that use part-timers or even teenagers, our pressmen have been doing this for decades. For them, it's a career, and they're committed.
No one depends on a successful envelope printing job as much as our clients. That's why we place such a priority on personal and prompt service. We provide fast quotes and can turn jobs around in two to three days, even breaking into our own production schedule for priority jobs.
We provide the personal attention that makes sure the job is done right. We communicate directly with our clients to ensure all jobs live up to our clients' and their customers' expectations.
Contact us
today for any envelope printing need.